Portland's Bone Adds Shelby, Mistress Carrie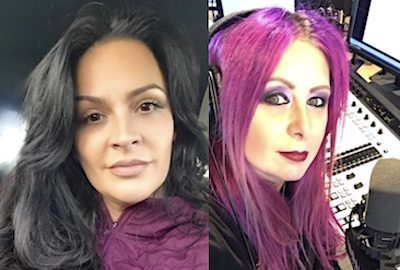 • Binnie Media Active Rock WHXR (106.3 The Bone)/Portland, ME announced a newly refreshed weekday lineup that now contains the addition of couple of very familiar New England radio favorites —
The syndicated Free Beer & Hot Wings morning show will continue to wake-up Portland as it has for the past 15+ years, followed by 90 minutes of commercial-free music hosted by new midday personality Shelby (left), whose voice has been heard over the years on WGIR (Rock 101)/Manchester, NH, WXKS (Kiss 108)/Boston and SiriusXM's Octane, to name a few.
Shelby will be followed in afternoon drive by another beloved New England veteran — the one and only Mistress Carrie (right), best known for her 22-year run at the late, great WAAF/Boston and now host of the popular Mistress Carrie Podcast.
Michael Czarnecki, Binnie Media VP of Programming, commented, "These women are a GREAT addition to the station. We are thrilled to be adding them. Their knowledge and passion of and for the format are the perfect addition as this brand grows and evolves." Massimo Rosati, Pres. of Binnie Media, added, "This is yet another step forward as we continue to build our brands to be the best in the market, as well as better serve our listeners and clients."
Legendary Boston Rock Radio Personality Mistress Carrie Takes Afternoon Drive at The Pike 100 FM/WWFX
Legendary Boston Rock Radio Personality Mistress Carrie Takes Afternoon Drive at The Pike 100 FM/WWFX
WORCESTER, MA, May 3, 2021 — Cumulus Media announces that Rock radio personality Mistress Carrie will join The Pike 100 FM/WWFX's weekday on-air lineup, debuting Monday, May 10th, in Afternoon Drive from 3:00pm-7:00pm. A familiar name and voice for Boston and Worcester Rock fans, Mistress Carrie was formerly Music Director/Assistant Program Director and Afternoon Drive Personality for legendary Boston Rock station WAAF-FM and was with the station for more than 20 years.
Bob Goodell, Regional Vice President/Market Manager, Cumulus Boston/Worcester/New London, said: "We are thrilled to welcome Mistress Carrie to WWFX/The Pike and think Rock radio listeners will love her familiar voice and engaging style in Afternoon Drive. With Mike Hsu in Mornings, Chuck Perks in Middays and the best Rock music, our weekday lineup is a winner!"
Chuck Perks, Operations Manager, Cumulus Boston/Worcester/New London, and Program Director, The Pike 100 FM/WWFX, noted: "What a luxury for me as program director for WWFX to have not only Mike Hsu as my morning guy but now Mistress Carrie as our new afternoon host. Carrie is a rock fan who lives the lifestyle and knows the audience. Her experience and knowledge of the market makes her the perfect fit. I'm proud to have them both on board to take 100 FM The Pike to new heights."
Mistress Carrie commented: "I could not be more excited to take the next step in my radio career at 100 FM The Pike, and in a city that has supported me for decades, Worcester MA. To be reunited with the one and only Mike Hsu makes it absolutely perfect! We got the band back together, and now it's time to kick the tires and light the fires! Let's GO!"
For more information or to stream 100 FM The Pike, visit: https://www.pikefm.com/.
MISTRESS CARRIE JOINS WESTWOOD ONE'S ROCK TALENT ROSTER
NEW YORK, NY – April 26, 2021 – CUMULUS MEDIA's Westwood One today announced that Mistress Carrie will be joining the 24-hour network formats division as afternoon host of the Rock 2.0 and CRX formats. Carrie has more than twenty years of experience on the legendary Boston rock station WAAF-FM.
"I am honored and thrilled to take the next step in my radio career with Westwood One," said Carrie. "Taking my show nationally has always been a dream, and now it's coming true thanks to this incredible company! I know I'm part of an amazing and talented team, and I cannot wait to get started!"
"Carrie is already well established as top-shelf radio talent, and we're proud to elevate her to a national level by showcasing her on dozens of US radio stations," said Cheri Marquart, Vice President of Programming – Contemporary Formats, Westwood One. "This is another example of how Westwood One is able to offer our affiliates top-tier talent. We are very excited to have Carrie join our team, and I know our affiliates will be as well."
Westwood One, the national-facing arm of CUMULUS MEDIA, offers iconic, nationally syndicated sports, news, and entertainment content to over 250 million monthly listeners across an audio network of nearly 7,300 affiliated broadcast radio stations and media partners. Westwood One is the largest audio network in America, home to premium content that defines the culture, including the NFL, the NCAA, the Masters, CNN, the AP, the Academy of Country Music Awards, and Westwood One Backstage. The rapidly growing Westwood One Podcast Network delivers popular network and industry personalities and programs. Westwood One connects listeners with their passions through programs and platforms that have everyone listening. For more information, please visit www.westwoodone.com.