Super excited to announce this!
Portland's Bone Adds Shelby, Mistress Carrie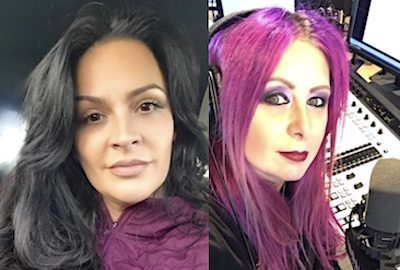 • Binnie Media Active Rock WHXR (106.3 The Bone)/Portland, ME announced a newly refreshed weekday lineup that now contains the addition of couple of very familiar New England radio favorites —
The syndicated Free Beer & Hot Wings morning show will continue to wake-up Portland as it has for the past 15+ years, followed by 90 minutes of commercial-free music hosted by new midday personality Shelby (left), whose voice has been heard over the years on WGIR (Rock 101)/Manchester, NH, WXKS (Kiss 108)/Boston and SiriusXM's Octane, to name a few.
Shelby will be followed in afternoon drive by another beloved New England veteran — the one and only Mistress Carrie (right), best known for her 22-year run at the late, great WAAF/Boston and now host of the popular Mistress Carrie Podcast.
Michael Czarnecki, Binnie Media VP of Programming, commented, "These women are a GREAT addition to the station. We are thrilled to be adding them. Their knowledge and passion of and for the format are the perfect addition as this brand grows and evolves." Massimo Rosati, Pres. of Binnie Media, added, "This is yet another step forward as we continue to build our brands to be the best in the market, as well as better serve our listeners and clients."